Pause In Lent 1 – Valour
For this year's "Pause In Lent" Floss and Ang have suggested a list of the Seven Cardinal Virtues for us to ponder. While I vaguely know about the Seven Deadly Sins (enough to recite them – I think!) I know nothing about the Cardinal virtues.
Floss gives us the list as so:
Valour: Pursuit of Knowledge
Generosity: Pursuit of Charity
Liberality: Pursuit of Will
Diligence: Pursuit of Ethics
Patience: Pursuit of Peace
Kindness: Pursuit of Love
Humility: Pursuit of Modesty
But – of course! – it seems that different commentators call these different things, and so I ended up getting rather confused by what they all meant!
Ang, over at Tracing Rainbows, has chosen to start with Diligence. However, I think that I probably need to follow the list in order. If not, I will choose the easiest to start with and then run out of enthusiasm! So I start with Valour. Which doesn't appear on many lists!! However, "Prudence" does appear, and as one commentator says Prudence is primarily a virtue of the mind (intellect),  I guess this may be Floss's "Pursuit of Knowledge"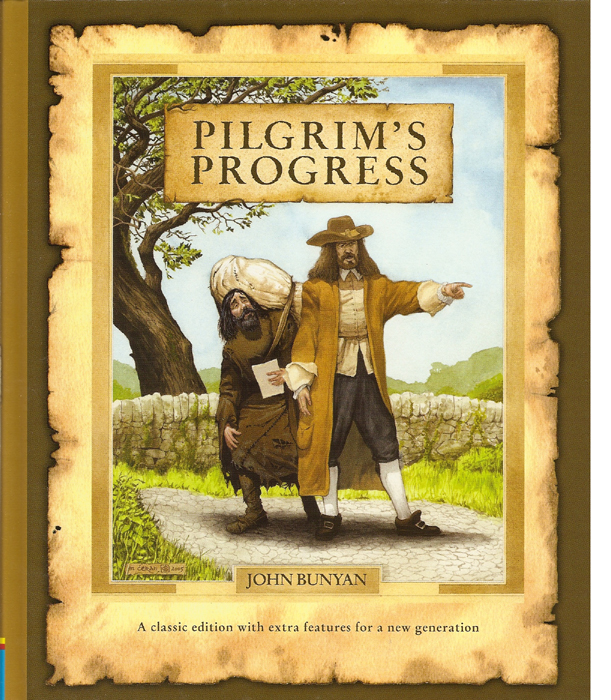 I wonder if I was the only person, who when they saw "Valour" on the list, started singing the slightly out-of-fashion hymn "He Who Would Valiant Be". The original words to this hymn were written by John Bunyan, and appear in "Pilgrim's Progress"
Who would true valour see,
Let him come hither;
One here will constant be,
Come wind, come weather
There's no discouragement
Shall make him once relent
His first avowed intent
To be a pilgrim.
Whoso beset him round
With dismal stories
Do but themselves confound;
His strength the more is.
No lion can him fright,
He'll with a giant fight,
He will have a right
To be a pilgrim.
Hobgoblin nor foul fiend
Can daunt his spirit,
He knows he at the end
Shall life inherit.
Then fancies fly away,
He'll fear not what men say,
He'll labour night and day
To be a pilgrim.  *
I remember singing the hymn that is based on this at school. To me then, it was just another boring hymn from the little blue hymnbook that we all had, although I did enjoy the mental image of "hobgoblins and foul fiends".
But now, as we enter Lent, I do think it is a poem worth considering again…particularly for me in my present situation. You see, I'm not being very constant towards God, and quite frankly, it only takes a bit of metaphorical wind and weather and I'm off, not exactly losing my faith, but doing very little to hold onto it! My intent to be a pilgrim, so strong in the past, has dribbled away, like sand in a sack with a tiny hole in it. Little by little, almost so you don't notice that the sack is getting lighter, until there is almost nothing left.
It hasn't been the hobgoblins, it hasn't been "what men say", it hasn't been lions or giants. Perhaps if it had been, my faith would still be the most important thing to me. What I think has been missing, what has been the tiny hole in my pilgrim's sack, is my lack of commitment to learning more about God and my relationship to him. Because I've not really understood much of the sermons/Bible study groups here in France, I've not had the regular teaching that I used to get in the UK. Because I'm no longer preaching, I've not challenged myself to think about God's will for the world and for myself. Because I've never ever had a strong commitment to reading the Bible, or other "spiritual" books, I've not had the input from that.
So, I shall try…though baby steps are required on this pilgrimage, I think! If I make grandiose gestures (I shall read a chapter of the Bible every day) I won't do it. So, looking on my bookshelf, I spy "A Shepherd Looks At Psalm 23", a book I bought, according to what I've written inside, in Winchester, on 21st February, 1984, when it was wet and windy.
It is a slim volume, and perhaps it is a good place to start. I shall read a chapter of this every week (every day is a bit too much!). The introduction to this book reads: "I ask that the reader approach the pages that follow with an open mind and an unbiased spirit. If he does, fresh truth and exciting glimpses of God's care and concern for him will flood over his being. Then he will be brought into a bold, new appreciation of the endless effort put forth by our Saviour, for his sheep. Out of this there will then emerge a growing admiration and affection for The Great Shepherd of his soul." As "Valour" has been tagged "the pursuit of knowledge" then this seems an appropriate way to start!
Finally, to finish, a commentator on the hymn that started these thoughts says: "Bunyan's burly song strikes a new and welcome note in our Hymnal. The quaint sincerity of the words stirs us out of our easygoing dull Christianity to the thrill of great adventure." I need to be stirred out of my easy going, dull Christianity. But, at the moment, please God, stirred…not shaken!
Actually, that isn't quite my "…and finally…", this is. I have stolen the idea of another Lenten discipline from A Left-Handed Housewife. I'm going to write a letter or card to someone I know (or don't know!) every day of Lent. The LHH sees this as a way of making space for people I'm not obligated by family ties to make space for. I know that it's more traditional to give up something for Lent, but I did some research, and all sorts of spiritual disciplines may practiced during the Lenten season, not just fasting. In fact, an emphasis on hospitality is one of those disciplines, so writing a card or a letter every day will be my practice of hospitality.  So, the same for me. While I can write to some people that I know twice, I still don't have 40 people in my address book. So if anyone would like to receive a card/letter from me, please contact me with your address, and I'll try to fit you in!
* I've just popped back, as I forgot to add this link for anyone who doesn't know the hymn. It's to a version sang by Maddy Prior with the Carnival Band. A good "folk-y" version.
Tags: God 'n' stuff