Delving into the Archives No.1
So, it's mid week and I don't have much time to post…but I do feel I ought to. Otherwise, people might get fed up of turning up and finding I've written nothing. So I thought that if I was devoid of inspiration, I should randomly choose a file of photographs (I've not sorted them out into subjects – they're still in date order) to share with you. This wll at least add some interest , and give me someting to write about.
So the date I chose, completely at random, was 28th July 2010. We were on a canal holiday with all of Mr D's family: his sister and her husband and two children, his brother, wife and son, plus Mr D's mum. There were 10 of us in all, spread out over two narrow boats. We started off somewhere in Shropshire and followed the Lllangollen canal to Llangollen and back.
This was one of the boats that we were on – but I don't know exactly where it is we've moored here. It must be said, our boats weren't decorated as beautifully as many of the hire boats that we passed! I loved the "canal art" that was on many of the barges – the traditional castles and roses designs, that have been passed down for hundreds of years.
This is an example of the roses and castles that the boat people would use to decorate their homes (the narrow boats) and their possessions. I remember doing a project about Canals with a group of Year 4 children (aged 9 – I think!) We visited a Canal Museum at Stoke Bruerne, not too far from Miltton Keynes, and the children learned how these beautiful pictures were made. Their attempts back at school weren't quite as successful! If you're in the area, I think it's a great day out! (and the pub isn't bad, either…not that we went with the children!)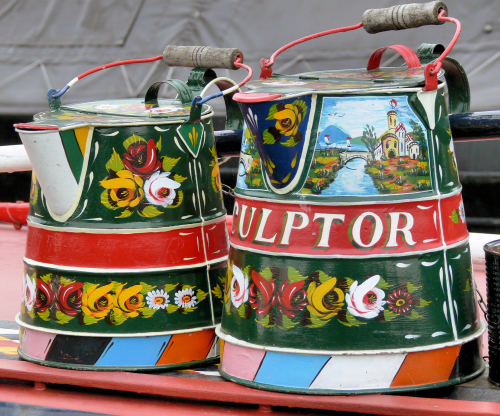 Here are some of the water plants that were growing where we moored – I have to admit to having NO idea what they are! I'm not the world's best at identifying plants. Mr D is quite good – it comes of studying plant biochemistry at Cardiff University!
And here is a picture of trees. I don't know why I took this – maybe it was the first signs of autumn, in the yellows and browns in the foreground. But there you are – trees!!
Next week (if I don't have time for much else) there will be another dive into the Dormouse Photo Archives.
Tags: pictures