More crafting. And a Knight.
There I was, sitting in my car in a queue at the traffic lights, when a Chevalier in tabard, boots and pointy-hooded cloak strode past me, sword at his side, smoking a pipe.  He looked totally unembarrassed and as though he belonged in a modern day street in Roanne. I wish I'd had my camera with me!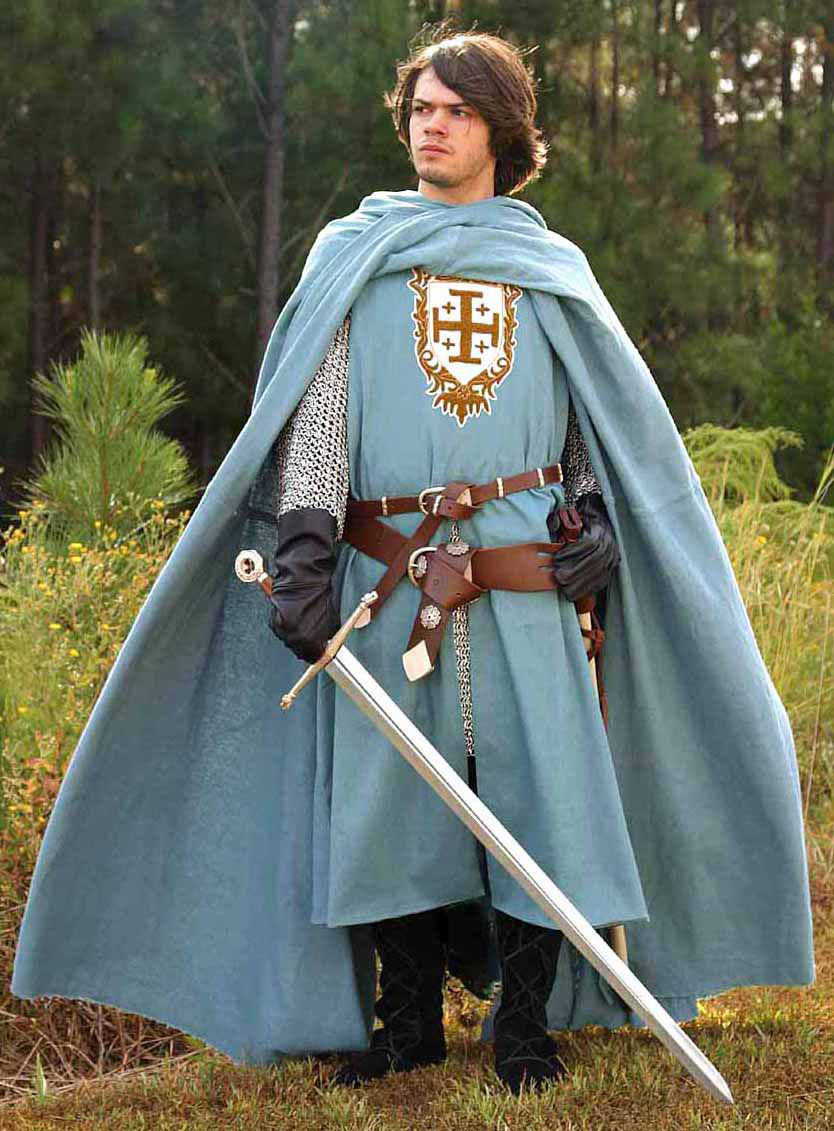 A bit like this gentleman – but browner! It was a slightly surreal experience!
***
Other than that, what have I been doing? Well, I've applied to go back to work at the Summer School again this year. Yes, I know it was very hard work last year, but, in hindsight (it's a wonderful thing!) I think I enjoyed it enough to return – if they'll have me!
I've also applied for one or two other teaching jobs – these are online/ telephone teaching – I don't know what will happen there. I'll keep you posted.
And I've been creating some cards. I'm quite pleased with these (though my photos aren't great)
This uses some tissue paper that I bought ages ago, a gold stick-on daffodil (bought discount at Noz!) coloured by hand using felt tips, ric-rac ribbon and two flower eyelets from a Mini Embellishment set by Papermania- again bought discount, at Noz. The sentiment ("Just for the pleasure") I printed out on parchment paper (Noz!) and the card I used was being thrown out from Michelin last year, so I rescued it from the bin.
This card ("Take time to dream") uses a rice paper clock, cut out and stuck down, with some paper I bought (reduced!) at a local craft store at the left hand edge. The ribbon was bought at Noz, the bird cut out from the same paper,and a couple of jewels stuck on to sparkle. They were also bought reduced from £2.99 the pot to 99p.
These flowers I bought in Canterbury at Christmas in The Works. 99p a bag – I wish I'd bought two bags as I've used them quite a lot! Discount ribbon and recycled pearlescent card complete this one, with a hand written sentiment.
I like this one – it's very similar in design to the Christmas card I sent my Ship of Fools Secret Santa recipient. Discount ribbon, recycled card, free paper (in a craft magazine), printed sentiment ("Dream") and discount jewels and stars. I'm not a cheapskate, really!
This one, and the one shown below, are my interpretations of a design I found on someone's blog. Theirs was a Christmas card: I've made mine into every day cards. The one above uses thread from a tag on a jumper I bought in M&S in the sales, and the one below uses recycled thread from gift tags! The flowers you've seen before, and the paper used was again discount/reduced/on special offer! The sentiments were printed on parchment paper, the one below meaning " Smile…Share…Love"
I have always found it difficult to find sentiments to use in France, but I've finally found a couple of websites and blogs that have given me ideas, and I have a book where I write them all down.
I have also discovered a French site similar to Etsy or Folksy, which I am tempted to join. Some of the prices being charged for what I think are frankly horrid cards (but then, I'm not coming from a French view point) are a bit astounding. Or maybe I'm just undercharging! I'm certainly considering having a "shop" on here – but I need to look carefully at the terms & conditions. What do people think?