Oooh, your face looks familiar…
…but I can't quite remember who you are!
I'm sorry that I've been off the radar for so long. I've been working in the UK at a summer school, teaching English to children from various countries. It was 4 weeks of ups and downs, most of the downs being in the first fortnight, and the ups in the second fortnight.
I arrived really wanting to teach the Kids department (7 – 10 year olds), but had been told by the Recruitment Officer that "all that would be sorted when everyone arrived" ("all that" being the age group, the workshops etc that we would be teaching) Fairynuff, I thought, and prepared to make my stand for the Kids. But then I discovered that despite what I'd been told, the Recruitment Officer had actually promised various people their preferred teaching positions, and the Kids department had its full quota of teachers , thank you very much.  So I reluctantly ended up with what is termed Teens (bizarrely this age group is from 10- 13 so it's hardly "teens". Never mind…) The first week I found myself floundering: I used to be able to discipline this age group, I used to be able to teach this age group, but I think I've lost all those skills. I had a sh*tty time. Looking back, it was nothing terrible, but I became more and more convinced I was failing, and, as a result, became less and less effective as a teacher. By the middle of week 2 I'd had enough, and went to the Director of Studies, wept all over her and then handed in my notice: I was leaving at the end of Week 3.
Later that day, she came back to me and suggested I might try Seniors – as I taught mostly adults here in France I might find that I could cope with them. I really wasn't sure and reiterated my desire to work in the Kids department, but said I'd think about it. That evening I'd arranged to go out for a meal with my sister, who was working fairly nearby, so we went to a lovely pub, called The Pot Kiln.
Here we ate delicious food, and Judy talked me through my dilemma and helped me come to my decision. I was so grateful to her for her help. I decided to take up the DoS's offer to try Seniors for a week, and say that if that worked, I'd stay for a further week, if the organisation still wanted me to. The following day I'd changed my mind, and decided to stay in Teens – but the fact I made the decision calmly and thoughtfully was due to Judy's perceptive questioning and listening.
I must also mention Heather, one of the other teachers there. She was really supportive and so friendly. I discovered early on that she is a Christian and while I'm not sure I agreed with her on all points, I do know that without her and her faith and support I would probably have had a much worse time of it. She gave lots of great teaching advice, and prayer support. Thanks Heather!
Anyway, the day after my dinner with Judy, to my great surprise,  the Assistant DoS came to me over lunchand asked if I wanted to move into the Kid's department. I was so grateful I almost gave him a huge kiss there in the middle of the dining room!! I can only imagine that the organisation was eager to keep hold of me (an experienced CELTA trained and qualified teacher) for the British Council inspection that was happening in Week 4. So I moved to the department where I'd wanted to work, with the bonus that I didn't actually have a class for the first week, but was "floating" – observing and helping out where necessary. That was mostly in the lower level classroom where Hawa was teaching a mixed bag of children aged from 6 ( six?! Who sends their unaccompanied 6 year old away the England to learn English?! ) to 9. One of them, the 6 y-o, couldn't even form the Latin alphabet properly.  I spent much of the time working with him and keeping his bum attached to the seat when he was supposed to be working!
In week 4 I was teaching the Upper level – three delightful children from Russia/Ukraine – and we had a great time. I introduced them to The Elephant's Child by Rudyard Kipling, and I was thriled when Sofya "got" the alliteration of the great, grey-green, greasy Limpopo River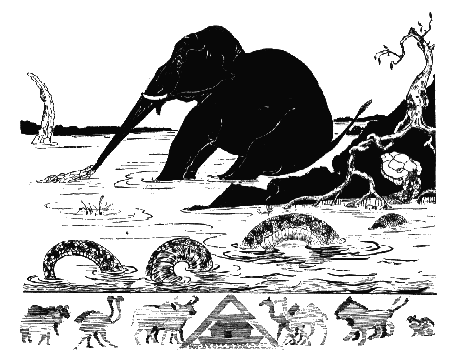 We went on many excursions: to Chessington World of Adventures, to Marwell Zoo, on a canal boat, to Bekonscot Model Village, to a nature reserve and a farm park. It was fab!
Each half day excursion the Kids would get a snack to eat (because they couldn't possibly survive without food between lunch at 12.30 and dinner at 5.30!) of a chocolate bar, a bottle of water and an apple. When I asked the guy in charge of the horse, who was called Freddy (the horse, not the guy.) if we could give him (the horse, not the guy.) an apple the answer was yes. So we did. Thereafter every child wanted to feed their apple to Freddy – which, apparently, would not have been a good idea, so I ended up collecting a carrier bag full of apples which were presented to the guy-in-charge-of-Freddy at the end of the trip. Quite frankly, I'm not sure how many apples actually reached Freddy, and how many went into the fruit bowl – but better that than end up in the bin, which was where the apples usually ended up! ( though strangely, rarely did the chocolate bars get thrown away!)
I worked with two great teachers: Hawa was the Senior teacher and she works at Lines every summer to earn money to fund her English Language school over in Senegal. If you want to know more about the work Hawa does, here is a link to an article on someone else's blog.  David was the Head of the Kids Department and had done much of the organisation beforehand – he was a great laugh, but also a fantastic teacher too, building up great rapport with the children.
At the end of Week 4 there were only 3 children remaining in the Kids department, as the others were going home. Obviously I couldn't stay on to teach in the Kids, but I was given the choice of staying on for another week in Teens or finishing after Week 4. Having had a great fortnight, I decided to finish on a "high" rather than risk another feeling of Complete And Utter Failure, so I left after 4 weeks, taking the opportunity to go and see my mum.
I think the Kids Department must have got a good report from the BC inspection, as the Director of the organisation, Dirk, was very pally and jovial with us, and when I went to say good bye to him in the pub on my last evening he said "Are you coming back next year?"
I had already decided my answer to this, and replied "I'll be happy to come back if I can be guaranteed work in the Kids department. If not, then no."
At which point he turned to the Recruitment Officer, who was also there, and said "Make sure she is in the Kids next year!" I think he liked my work! 🙂
I spent  a week up in Liverpool with mum – I saw my niece, we went out for a couple of meals, we went for some walks, and visited Speke Hall together. It was good to spend time with mum as she rarely gets over to France now.
If you've never been to Speke Hall, I recommend a visit: I hadn't been for at least 30 years, and couldn't remember much about it, buit it is a charming little Tudor gem of a building. The two trees in the courtyard are called Adam and Eve, and they believe Adam is over 700 years old
There is a genuine Priest Hole, as the first owners of Speke, Sir William Norreys, was a Catholic, in the times when it was mighty dangerous to be a Catholic. Above the doorway that you can see in the picture, (it was the original front door) there is a small hole beneath the eaves: apparently there would be a servant who lay behind the hole in the eaves, to listen to the conversation of those who were waiting to enter the Hall. This way they could be gauged to be friend or foe before they entered, possibly necessitating a precipitous use of the Priest Hole. And that, so they claim, is where the term "eaves dropping" comes from.
Of course there is also the obligatory ghost story:
The ghost here is thought to be that of Mary Norris a descendant of Sir William Norreys the first owner of Speke Hall. In 1791 Mary inherited Speke Hall from her uncle, Richard Norris. Five years later Mary married Lord Sidney Beauclerk, a hopeless gambler. Lord Beauclerk enjoyed high living and indulged himself much in the London society of the day.
Mary soon fell pregnant and produced a son for Lord Beauclerk she hoped he would stop his gambling. Unfortunately this was not the case shortly after their son's birth he returned from London to announce that his recklessness had resulted in financial ruin and that they faced poverty and disgrace. In a fit of rage Mary picked up her son and threw him from the Tapestry room window to his death in the moat below. Mary then made her way to the great hall and took her own life.
In this picture of the Great Hall there is indeed a ghostly figure of a woman holding a baby… Hmmm. It must be true then.
After my week with mum, I drove down to Kent where Mr D was due to arrive. We stayed with his family, as his cousin and uncle and aunt were over from Germany, but also had the opportunity to go to Milton Keynes to catch up with friends there. Then we returned to France, where I had some surprise lessons to give – one of the companies I work for had scheduled some lessons for me yesterday and tomorrow! My mother in law came back with us, so she is staying here, but unfortunately I'm now suffering from a bad back: I'd been suffering a bit at MiL's (I don't find the bed there very comfortable) and then the 9 hour car journey across France probably didn't help. On Monday it was stiff, and on Tuesday I could hardly walk! Luckily I have some super-duper painkillers which are now doing their job, and I'm starting to feel a bit better.
So now we've caught up, I hope to be back to regular blogging soon. And I hope to be calling in on some of your blogs too! Just give me a few more days to sort myself out!