Huzzah for Christmas!
I see that there are blog posts starting to proliferate about how to have a frugal Christmas, how to save money, how to cut back…and I do understand that, in these lean, mean years, it IS important to try to stay within a budget, and not to go overboard. I do realise that some people will struggle this year, because they buy into the idea that "Christmas isn't Christmas without…" (insert consumer product of your choice here), or that they believe that their children's life will be blighted forever if they don't have Grand Theft Auto 5 or whatever the latest computer game is. But I find it sad too, that for so many people Christmas has become a word that must be spelt Ch******* because no-one wants to mention it for fear of being buried under an avalanche of complaints about "I can't afford it!" "It's too consumerised" "Don't you weave your own Christmas cards and make gifts from leaves?" Or whatever!!
So I'm here to say, loud, clear and proud. I LOVE CHRISTMAS!
I don't go overboard on decorations .I love a tree, but with 4 cats who go bozongo over anything strange I fear that it would be knocked over within a day of putting it up! Most of our decorations are put up higher than little cat paws can reach. I have a tiny Mexican crib, plus various animal Santons, I have shining stars, I have bowls full of baubles and cranberry scented pot pourri. Last year we were over in the UK for two weeks, and so "it wasn't worth putting up the decorations" – Lord! The house felt so miserable. But if you need to be mindful of cost, then I suggest you could make your own little tree decs with salt dough and glitter, should you feel so inclined, or – as someone made for me – make tiny wreaths from scraps of green and red material twisted together.
(Our bowls are not so beautifully draped with beads and candles…We'd have cats set alight and strings of beads scattered on all 4 floors of the house before you could say "Santa Claus"!)
Presents can be a minefield. I realise that. Costs mount up so quickly. I love a shop here in France called Noz, where they sell end of line stuff, or bankrupt stock. Through the year I buy things that I see that "might be useful". I'm organised in that way – but sadly not so organised to keep a list, so I do find I end up with three gifts suitable for my sister and nothing for my brother! Many people say "We'll only buy for the children" because adults don't need gifts. That's true, and in families where there are lots of children, that seems quite sensible…but we don't have children. And I like getting presents!!!
So we have set a limit of costs (but of course, there's nothing to say we have to spend that much!) per person – even so, with my brother's extended family it will cost quite a bit! Luckily I've found things at low prices for them, through the year – pretty notebooks for the girls (though they probably use their i-phones for notes!) and some beautiful honey pots at a very good price! If you do have the time to make foodie gifts, that's great – but they can turn out quite pricey too. But I always make a batch of these Christmas cookies from The Pink Whisk for us, and so often make a batch as a gift for our friends here in St Just too. All the better if I can find a pretty tin at Noz to put them in! Everything else has to be posted – and therein lies the cost!! Of course, while buying pretty notebooks at Noz I forgot to factor in the cost of posting. Curses!!
One year I knitted scarves for practically everyone – but having done that once, you can't really do it again!! And my knitting skills don't really extend beyond the straight up and down (or should that be side-to-side) required for scarves. My poor sister ended up with a slightly weird bag knitted from discarded (by us) plastic bags. It was a nightmare to knit and it looked fairly blah! by the time I'd finished. I was rather embarrassed by it TBH!
As we have had some "big" expenditures this year – some for the house, such as the dishwasher, and some for ourselves (my Opening Doors weekend, plus tickets for an Elbow concert next year) – I think Mr D & I will only exchange small gifts. We'll have those from other people to open, so that will be fine.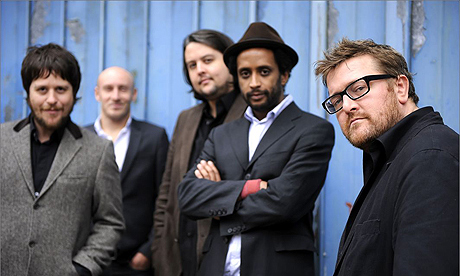 Elbow at the Echo arena in Liverpool. Woo-hoo! I'm already excited!!!
Another pound eater (or euro muncher!) are Christmas cards…I used to make them, but found that the time they took was extortionate – because I sent so many! I've cut down the list, but I do still like to send cards to people, because, while they are not our closest friends, I do want to show that I care about them & think about them – even if it is once a year! I have bought some cards in Noz, which are really rather "French" in style, and while they are not specifically religious (very hard to find in France!) they do at least feature stars rather than less Nativity-based themes such as pierrots and clowns. I do have to admit to being seduced away from stars by penguins and polar bears as well!! I will make one or two, for the Mothers, and maybe for our brothers & sisters, but everyone else will get a star (or penguin!) card WITH A ROUND ROBIN LETTER! I know that many people hate and scorn these for the one upmanship that they often contain, but for me they are an invaluable way of passing on news. Not that we ever have very much, but still…! And I do add a personal note on the bottom too. Our news this year: "George-the-cat has passed his masters degree in psychology and applied sciences after only one year of study! How wonderful! Millie-the-cats's modelling career has gone stratospheric: she has a modelling contract with Elite Models and is going to appear on TV in the near future. Pomme-the-cat has met and married a billionaire, after a whirlwind romance. And Bib-the-cat has learned to play the tuba in 6 months and is soon going on a worldwide tour with the London Philharmonic. "
Mr D and I will be by ourselves at home, so I know that our Christmas meal will follow the same routine as in previous years: one "meal" spread through the day. We'll start with brioche in the morning, and then, at about 11.00 we'll have some smoked salmon and maybe some fizzies. A little later there will be some foie gras, and maybe some sweeter wine. About 4:00 we'll have the main course – maybe beef, maybe duck, but definitely NOT turkey – with Christmas cake (or maybe Mr D's pannetone-bread-and-butter-pudding ) , cheese, and fruit spread through the evening, as we settle down to watch Doctor Who and Strictly.
We may well go for a walk sometime during the day, depending on the weather. One year it was sparkly blue sky and we had a lovely walk in the mountains above Roanne, but another year it was cold, grey and glum so we stayed inside with the fire going and the shutters closed!
Timings may be a little different this year, as I have started going to an English speaking church in Clermont from time to time. It is a long drive (an hour each way) but once a month is okay. Depending on the time of the service, I might go on Christmas morning…but it would take a very big chunk out of our Christmas Day together, so maybe I won't.
A few weeks back Ms Thrifty at Thrifty Towers reminded us that it was 100 days to go to Christmas, and if we could manage to put £1 a day aside, by the time Christmas arrived, we would have £100 to help towards the cost. Of course, for some people, saving £1 a day is an impossible dream, as they only have £1 to get them through the day. For others it is a mere bagatelle – easy to do. Thankfully, we swing more towards the "mere bagatelle" side, although it's not quite that laissez-faire here in the Teapot. One of my students pays her 18€  in cash, rather than by cheque, so I have been squirrelling away 10€ of this in a pot each week. Hopefully by the time we go to buy our Christmas food I'll have quite a stash. We won't go wild, but we will indulge ourselves a little.
But of course, the most important thing, the thing that makes Christmas so special is the event which it celebrates. And that is why, for me, it shouldn't be celebrated in a mealy-mouthed Let's Get Through It The Cheapest Way We Can manner. If you are strapped for cash, I can guess how expectations of children, family and the general world around you can weigh you down and cause heart ache and stress. But it was never meant to be so: Christ came to bring peace and joy. So even if your Christmas Day is a frugal meal of beans on toast, I do pray that it will be a frugal meal that is full of joy, and rich in pleasure.
REMINDER: If you are one of those people who loathes Christmas, or who struggles with money, and feel incensed by what I've written, then I apologise. It's only my view!