A Pause in Advent #1: Eddi's Service
Like several people, I'm joining in with Floss's "Pause In Advent". You can go to her site to read other blogger's takes on the Advent season – some thinking about their family traditions, others taking a theme to follow through the weeks leading to Christmas.
Over the past years I have taken various themes – last year I blogged about my favourite secular songs, plus associated art journalling, other years I chose a word, or a decoration to blog about. This year, I have decided to blog about my favourite seasonal poems.
Today I want to introduce you to Eddi's Service by Rudyard Kipling.
Eddi, priest of St. Wilfrid, in his chapel at Manhood End, ordered a midnight service for such as cared to attend.
But the Saxons were keeping Christmas, and the night was stormy as well. Nobody came to service, though Eddi rang the bell.
"Wicked weather for walking," said Eddi of Manhood End. "But I must go on with the service for such as care to attend."
The altar-lamps were lighted, an old marsh-donkey came, bold as a guest invited,and stared at the guttering flame.
The storm beat on at the windows,the water splashed on the floor, and a wet, yoke-weary bullock pushed in through the open door.
"How do I know what is greatest, how do I know what is least? That is My Father's business," said Eddi, Wilfrid's priest.
"But — three are gathered together — listen to me and attend. I bring good news, my brethren!" said Eddi of Manhood End.
And he told the Ox of a Manger and a Stall in Bethlehem, and he spoke to the Ass of a Rider, that rode to Jerusalem.
They steamed and dripped in the chancel, they listened and never stirred, while, just as though they were Bishops, Eddi preached them The Word.
Till the gale blew off on the marshes and the windows showed the day, and the Ox and the Ass together wheeled and clattered away.
And when the Saxons mocked him, said Eddi of Manhood End, "I dare not shut His chapel on such as care to attend."
I first came across this poem when I was searching for inspiration for a school play. It lent itself well to a narrator, and a few actors, with the others being Saxons, wassailing away in the background. I think I also used it for creative writing as well.
*****
I like it for the imagery, for the picture of a quiet, wind swept chapel with guttering candles, welcoming world weary beasts into the warmth. I imagine Eddi a little like Derek Jacobi in "Last Tango in Halifax"* (incidentally, that is a series well worth catching up on, if you don't know it) –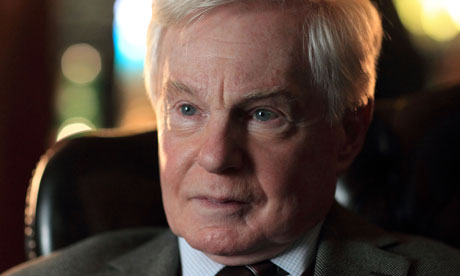 (though, obviously not in a suit and tie!)
Actually, I've just realised that this reason I picture Derek Jacobi as Eddi is because he played Brother Cadfael in the TV adaptation of the novels. And there he played a monk:
…so I wasn't far wrong with my mental picture!
An old man, a gentle, white haired monk, with cassock hitched up and work-worn hands. Disappointed that he was not preaching to the pagan Saxons, who were not interested in hearing about the Christian God, he instead opened his church and his heart to those who came looking, humble as they were. He gave them the Word that they were looking for: that they too are important to God, that they too were able to serve him, that they too were as welcome to come before Him who was born that night as any other.
Isn't it strange how Christians, who claim to follow the source of all Love, often seem to be all too willing to spend time judging others and deciding who is and is not "entitled" to enter God's Kingdom. How many of us would have shooed away the ox and ass as not being "worthy" to receive God's love and largesse? How many of us today look on others and judge them, as being "worthy" of our time, our money, our charity?
"No-one can come to the Father but through me" is something that Jesus said, and so often, this is taken to mean that only Christians will be welcomed into Heaven: only those who have accepted Christ as their Lord. But what if it meant something different? What if it means "No-one can come to the Father except by my say-so, except those who have been welcomed by me"…
And what if God welcomes everyone? What if Christ says "Yes! You're here! Welcome to everlasting glory!" to everyone. What then?
And this is how I see my God: welcoming to everyone who comes searching for the Truth, whether they are Christian, Buddhist, Muslim, agnostic… I cannot imagine a God who is all-loving, who is justice incarrnate, who has a heart full of love and forgiveness and compassion turning anyone away from Glory, because they didn't have the opportunity to hear the Gospel, because they were full of questions, because they were brought up in another faith, because …because…
Eddi did not judge whether the ox and the ass were "worthy" of knowing God. He welcomed them, saying: "How do I know what is greatest, how do I know what is least? That is My Father's business"
We are not put on this earth to judge. We are put on this earth to serve.